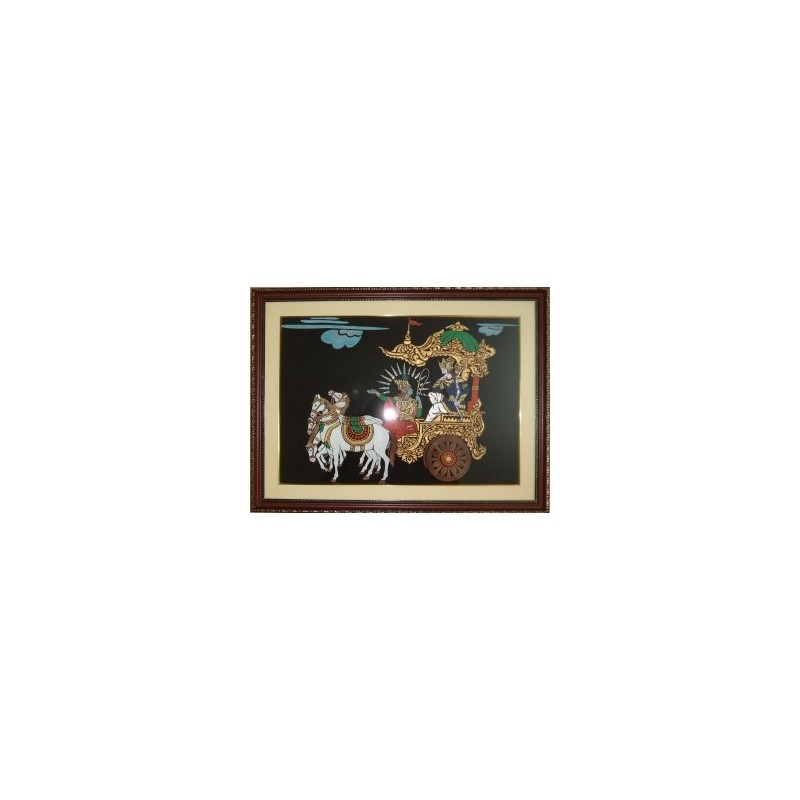  
Hand crafted Wall Hanging Bhagavath Geetha
Reference: PGHC002
Hand crafted wall hanging Bhagavat Geetha
A spiritual gift  to your loved ones.  It will decorate your loved ones house with blessing of Bhagavath Geetha. Order hand crafted wall hanging online today!!
Notes:
-   It is an embossed type of painting. Its appearance has a unique beauty of color and picture.
-  Acrylic and pearl colors are used. Acrylic colors are used for brightness and the pearl color shows a double shade and makes the picture shiny.
-  This picture background is made of velvet cloth, black in color.  If you prefer any other background color it would be done as per your choice within the scheduled order time.
-  This is a handicraft work made using stones and glitters.
-  This is a new type of painting work, which looks more attractive due to its glittering appearance.
-  Painting is outlined by an attractive framework of floral patterns (to give a traditional look).
-  It is the best gift you can give for any kind of occasion depending on the picture that you choose.
-  This is completely a handmade work without any machinery usage.
-  Size of the painting is A3; Weight depends up on the painting and the framework.
-  Product will be shipped in 5 to 8 business days across India
-  The image shown is indicative in nature, actual color, design & size may vary