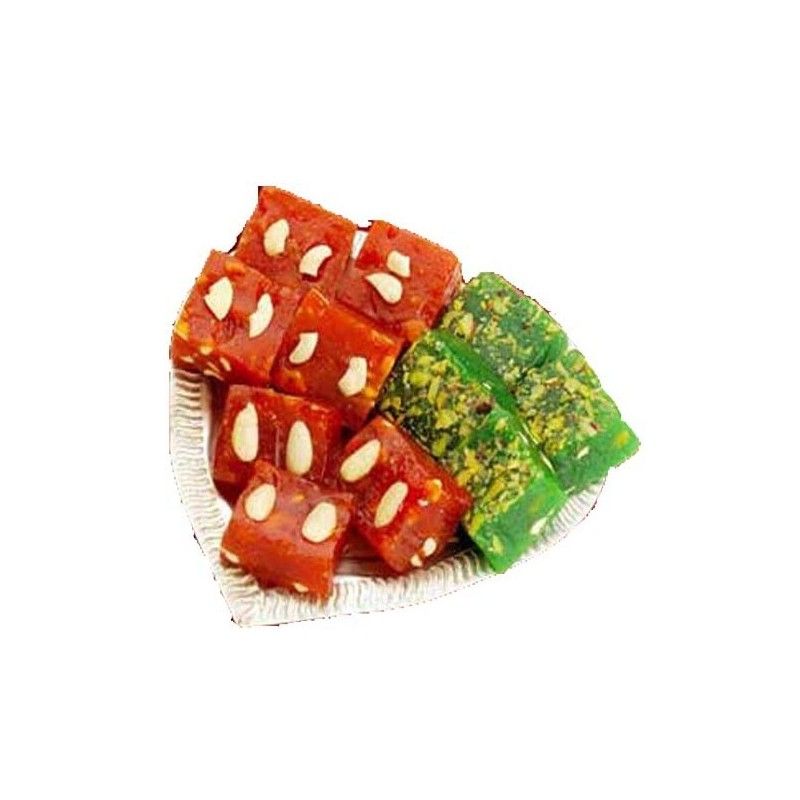  
Mixed Halwa
Reference: SWT207
Taste the Tradition and Taste the taste!!!
Rich and delicious  Halwa from top quality Sweet Shops to your dears is perfect way to make them happier on Birthday, Wedding, Festivals, Anniversary and on all Occasion.
Notes
- Sweets will be delivered on Same day in Chennai, Bangalore, Hyderabad, Secunderabad, Coimbatore, Madurai, Trichy, Enakulam (Cochin)
- For Other Cities Sweets will be delivered within 2 - 5 Business days
- Accessories shown are not included
- Product may vary slightly in Design, Shape and Colour
Halwa
Halwa is a tasty enticing sweet that is really yummy and a favorite dessert worldwide.The word halwa is actually Arabic and it derived from the word hilwa which means sweet and in Arabic, it is pronounced as hull waa and is served with tea or coffee. It is delicious, wonderful and healthy sweet. Halwa refers to dense, gelatinous sweet confection that is very popular in India, Pakistan and many Asian countries, European countries and Jewish world. Halwa is also available as crumby form made from nuts and stiff square varieties like the ice halwa found in India.
Ingredients of Halwa
Halwa has many varieties and is made from fruits, vegetables, lentils, nuts and flours being the main ingredient and with sugar or condensed milk, ghee, cardamom powder being the common ingredients. Milk may be added. The main ingredient is grated or cut into small pieces and cooked and blended with the other ingredients to form a smooth jelly like or pudding like texture and then garnished with dried fruits. The tahini based or sesame based halwa is very popular throughout the world. It was created by the Europeans with crushed sesame seeds and sesame oil.
History of Halwa
The origin of halwa starts in Arabia, and history says that the halwa was first made with dates and milk in the 7th century, and with the influence of various countries, many variations were made and many ingredients were added to reach what it is today and it has spread around the world. There are more than hundreds of varieties of halwas. Today most of the fruits and vegetables can be made into halwa with the combination of ghee and sugar and it is a very popular sweet served for festivals, occasions and functions. Traditionally halwa was made by cooking and stirring the ingredients continuously for a long time to get the right consistency. But today, people have started making halwa in the pressure cooker and microwave to make the cooking process easier.